Get help from a Powerpoint expert, in under 10 minutes.
Present, print, display & play flawlessly in minutes.
Font errors? Display issues? Printing problems? Random errors? Weird saving issues? Whatever your .ppt struggle—we can help you reclaim your presentation pride, lightning fast.
Agent online and ready to help
Billed in 6 minute increments.
Example: up to 5:59 = $12
New user? Get the first 6 minutes free!

You'll only be charged for the time a Geeker is providing service, so you can feel confident you're not being overcharged.
Solve your Powerpoint issue, in minutes.
Get immediate help with optional built-in screen sharing:
Ask
Tell us what the issue is and we'll pair you with an expert right away.
Connect
Your Geeker will set up a screen share and immediately start solving the issue.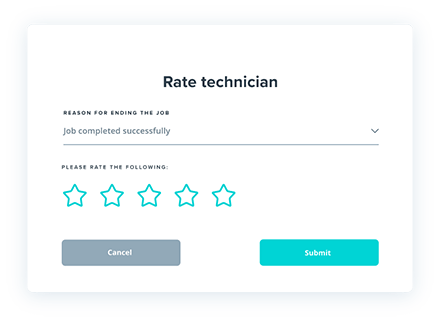 Resolve
Your allocated Geeker will give your issue the full attention it deserves until it has been completely resolved.
Solve every Powerpoint problem with built-in screen sharing that you control.
Don't waste 2 hours trying to figure out how to fix your Powerpoint presentation or struggling to explain your issue to someone. With Geeker, just click a button to screen share, show us the problem—and we'll walk you through the fix, immediately. *You can also stick with phone only support. It's up to you. 🙂
Bill
Jason deserves 5 stars

He found my Circular error in a minute and offered a solution. I could not have asked for anything more. Thanks Jason!
Isabela
They solved my problem in 7 minutes

Was able to restore my emails and folders after i thought they were lost for good! Could not have asked for better assistance.
Claire
Extremely helpful!

Andrew was extremely helpful, and patient in trying to figure this out. Will use them again.
Evelyn
Would not manage without Geeker

This is the second time that I have been helped by the same Geeker and she has been wonderful each time.
Fast. Safe. Trusted. Reliable.
Present, print or share polished Powerpoints.
Are your fonts:
Not printing how they should?
Not displaying properly on other computers (or displays)?
Causing frustrating errors?
Preventing you from opening or sharing files?
Avoid spending hours (or countless sheets of paper) troubleshooting something our Powerpoint experts can help you solve in minutes.
Fast. Safe. Trusted. Reliable.
Clarity. Assurance. Ease. The Geeker Promise
Why are my spreadsheets not opening up? Why are macros not working? How do I enable it?
Geeker walks you through live-guidance to effectively diagnose your Excel issues and get you running again.
Over 475 formulas on Excel? Yup! And it can be tough to find the right formula and know how to use them.
Our Geeks can quickly fix broken formulas, provide the formulas you need and show you exactly how to do it in the process!
How do I fix chart data? Why are my percentages not adding up? What is #VALUE?
Geeker quickly finds the root of the issue and cures all problems so you never have to face "####" again.
Why isn't my vlookup working properly? Why does my screen say 'vlookup invalid error"? How do I fix #N/A?
Geeker takes over and swiftly tackles the problem to bring you the most effective solution.
Fussed for hours creating the perfect presentation? But now:
Images / videos are distorted (low-resolution)?
Colors look terrible on screen?
Display is misaligned?
Our Powerpoint experts are here to help you figure out what's wrong so you can get back to presenting proudly.
Struggling to get media to work in your presentation? Such as:
Audio files with volume issues?
Videos won't work (or play) correctly?
Links to files, websites or audio won't work?
Pictures showing a red 'X' warning about quicktime?
Our Powerpoint experts are here to get you answers in minutes.
You may be experiencing any number of other issues, including: error messages, problems saving presentations, file issues, sharing/exporting problems, and more.
Don't worry! We can help!
Our Powerpoint experts know the program inside out, and have solved 97.5% of all issues that have come their way.
No! Our pricing is simple, transparent, and created around you because we believe you deserve premium support without spending a ton.
Can you explain the pay-as-you-go payment?
You will only be charged for the time that you're on the call with a Geek. Starting from $12 per 6 minutes. NO extra hidden fees.
I have a very complex problem — will you be able to solve it?
We've resolved an average of 97.5% of problems people have thrown at us, and our ecstatic customers return for help with other tech issues too. Try us
Do you offer free trials or discounts?
Yes! We honor our new customers by giving them their first 6 minutes of help for FREE! Just create your account (also free), post a job and get your free 6 minutes applied to your call automatically!